SAP All in One
From the modest beginning in the year 2005, New Horizons Cybersoft Ltd are today regarded as a committed and reliable SAP Consulting Partner, a reputation which is both hard earned and well deserved. Three years of India-focused SAP Consulting engagements and a team of highly dedicated and dependable professional are the highlights of our Business Today.
New Horizons Cybersoft Limited, a leading SAP ERP Solution Partner, based at Hyderabad, having to its credit combined experience in SAP Consulting and Project Management, apart from significant experience in Solutions Consulting and Process Improvement. It has successfully deployed SAP Solutions to various clients in India across different verticals like Power Generation, Mining & Metals, Engineering, Manufacturing and Services.
It can implement various products of SAP like SAP All in One Fast Start, SAP All in One and SAP Business One.
Enterprise Application
Provide advisory services on enterprise resource planning; implementation and support of SAP, Oracle Applications, Microsoft Dynamics.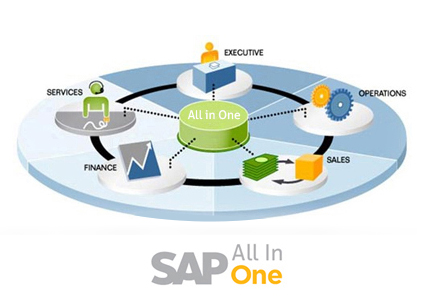 SAP All in One Solutions
Enterprise Resource Planing
The ERP functionality in SAP All-in-One is based on the industry-leading SAP ERP product, tailored for midsize companies. The features include:
Accounting and Financials - Create accurate financial statements; integrate all operative transactions throughout the company.
Sales and Service - Meet customer demands; support the entire order-to-cash process; provide after sales support.
Procurement and Logistics Execution - Control costs; manage the full sourcing and procurement cycle.
Inventory Management - Track the quantity, value and movement of inventory in real time.
Human Capital Management - Manage staffing change; streamline payroll processes.
Product Development and Manufacturing - Improve the product life-cycle process and manufacturing operations.
Reporting and Analytics - Plan, measure, and control organizational processes.
Corporate Services - Lower administrative costs; increase transparency of operations; improve adherence to corporate, legal and regulatory requirements.

With the pre-integrated CRM and ERP functionality in SAP All-in-One, you can manage all aspects of customer relationships and operational processes from start to finish.
SAP All in One Fast Start
As a midsize company, you need a solution that delivers fast time to value with minimal business disruption. You also need a solution that can adapt as your business needs change. The SAP All-in-One fast-start program is designed for manufacturing, wholesale distribution, and service companies seeking industry-specific functionality at a low cost of ownership. The program offers a bounded project scope, predictable costs, and short implementation times. It will enable you to minimize IT staff dedicated to supporting on premises business solutions. You will gain built-in support for the best business practices in your industry, and the solution you implement will adapt and grow with your company's requirements over time.
ERP SAP Services Offerings:
Full cycle Implementation of SAP Business suite and Industry Vertical Solution, version upgrades (technical and functional), training, system installation and administration, SAP GRC, SAP, Netweaver, SAP RFID Integration and Mobility solution.
It can also develop new requirement and convert them into add-ons in and around SAP All in One. Please contact us for any such expert solutions.
Want to learn more about SAP All in One?
Contact NHCL at +91-40-66663867/66661502.